SNIF Tag is a matchbook-sized wearable computer for your dog. Small, comfortable, and stylish, the SNIF Tag clips securely to your dog's collar. Using the latest wireless technology, the Tag records and transmits a record of your pup's activities and encounters with other SNIF dogs to a sleek base station in your home.
The SNIF Tag is made of durable plastic composites, is water-resistant, and easily clips on and off your dog's collar for once-a-week charging. The Tag and Base Station aren't just cutting edge technology, they're cutting edge design, too: the Tag's faceplate can be customized to suit your personal style and the discreet, streamlined Base Station is as much sculpture as it is cutting edge technology.
The SNIF website is intuitive and easy to use. When you log in, you'll find all the information your dog's SNIF Tag has recorded: the other dogs he's met; his activities and exercise logs; and all kinds of helpful tools to help you understand the life of your pet better. For the first time, you can check in on your pet's overall health from anywhere in the world with an Internet connection.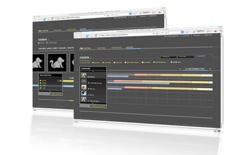 [more]
Copyright notice: the present content was taken from the following URL, the copyrights are reserved by the respective author/s.