Nothing new here, but still nice to see that people are interested in multemedia content attached on a map:
bliin YourLIVE! is a social networking service where users can spot, trace and share experiences — pictures, videos, audio and text — with one another in real-time on a Google Map.
Users create 'bliins' to navigate and monitor their interests in a location or area. bliins can be saved and shared amongst users. bliin is powered by GeoTracing and built on KeyWorx.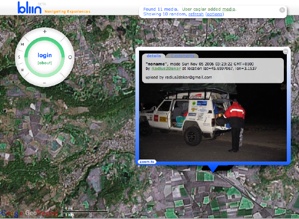 Tags: map algorithms, maps, urban exploration