Vertegaal, R., Shell, J. S., Chen, D., and Mamuji, A. (2006). Designing for augmented attention: Towards a framework for attentive user interfaces. Computers in Human Behavior, (22):771–789. [pdf]

———
This paper contains a great review of attentive user interfaces. The authors' argument is that computers are ill equipped to negotiate their communications with humans. The point is to design computers with channels to explicitly negotiate the volume and timing of communications with the user. The authors' approach is to replicate human turn-taking strategies. In particular one features of face-to-face conversations indicates with great accuracy to whim the speaker wants to yield the floor: eye-contact.
Eye focus can be used to communicate the target of the user actions in a collaborative situation. The paper present a great review of systems or projects that aims at communicating user's visual attention and interest in mediated group conversations or collaboration, like GAZE (Vertegaal et al., 1997) or SUITOR (Maglio et al., 2000).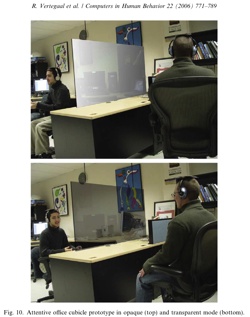 Tags: eye-tracking, human computer interaction