Microsoft Surface seems to be a fine piece of interactive furniture. What I like of the project is that put together many year of academic research into a corporate-layout.
The name Surface comes from "surface computing," and Microsoft envisions the coffee-table machine as the first of many such devices. Surface computing uses a blend of wireless protocols, special machine-readable tags and shape recognition to seamlessly merge the real and the virtual world — an idea the Milan team refers to as "blended reality." The table can be built with a variety of wireless transceivers, including Bluetooth, Wi-Fi and (eventually) radio frequency identification (RFID) and is designed to sync instantly with any device that touches its surface.
What attracted me was the video where they show how the table can be used to interact with maps. The user place some landmarks on the map just by pointing to the relevant parts, then he select some extra items from a side menu that offers contextual information on those points. Finally, he asks to the system to calculate the shortest path between the landmarks. What this scenario is lacking is how surface can support collaboration and particularly remote collaboration.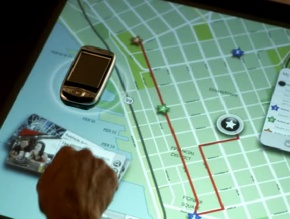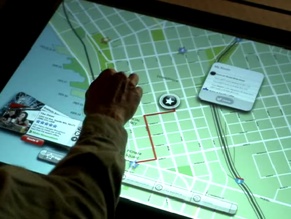 Copyright notice: the present content was taken from the following URL, the copyrights are reserved by the respective author/s.